Most of the time I'm covering apps you need to download in order to enjoy them and make your life a bit easier. But in today's #techtuesday post, I wanted to cover an app that is right on your phone!
It's how I pay for my groceries when I forget my wallet, board my plane, and get into the movies when we buy tickets in advance. 
Most of you probably never leave the house without three things: your keys, your cellphone, and your wallet (or in my case 1,495 purses/bags). That's a habit unlikely to change anytime soon. And you aren't likely to ditch the plastic credit cards in your physical wallet for digital versions. That said, there is a solution right on your phone that can help you out in a pinch!
Introducing: Wallet (Apple Pay)
Wallet— formerly known as Passbook — digitizes all your cards that are stuffed into your overflowing wallet or purse AND makes them available to you and super convenient to use. Wallet stores virtual versions of all your passes, tickets, coupons, credit cards, debit cards, and loyalty cards. And it can show useful information like the balance on your coffee card, your coupon's expiration date, your seat number for a concert, and more… 
Here're some of the basic functions you need to know to make Apple Wallet work for you!
Finding Apps That Work With Wallet
Wallet is supported by everything from coffee shops to airlines, gift cards to movie theaters, conferences to loyalty cards. All you have to do is fill it up. While not all apps make adding Wallet passes obvious, here's the easiest way to find them.
Launch the Wallet app.
Scroll down in Wallet.
Tap Edit Passes.
Tap Find Apps for Wallet.
Select any of the apps you use on a daily basis.
How to share cards from Wallet
And now you can share your cards with others! Want to share your seat assignment or a coupon? Follow the directions below:
Launch the Wallet app on your iPhone.
Tap the card you'd like to share.
Select the 3 dots button in the right corner of the pass.
Tap on the Share Pass button.
Select the method you'd like to use to share the pass. These include email, message, AirDrop, and any other third-party apps or extensions that support Wallet.
MY FAVORITE TECH ACCESSORIES

• • •
How to turn on/off automatic updates in Wallet
By default, Wallet automatically updates all of its cards and passes at regular intervals or when it's specifically notified of a change. That can be your balance, your gate, or anything at all. If you don't want Passbook to update on its own, however, you can shut it off and make sure the only changes that are made are the changes you manually update.
Launch the Wallet app on your iPhone.
Tap on the card you'd like to turn automatic updates on or off for.
Tap the 3 dots in the lower right hand corner of the card.
Adjust the automatic updates slider by moving it right to turn on updates, and left to turn off.
Using Apple Pay With Your Apple Watch
Apple Pay also works really well with Apple Watch. Open the Apple Watch app on your iPhone and tap My Watch. Next, tap Wallet & Apple Pay, then Add Credit or Debit Card, and then Next. Enter your card's details, then tap Next. To use Apple Pay with your Watch, double-click the side button, then hold your Watch's face to the card reader until you hear a tone and feel a slight pulse, which confirms the transaction was completed.
In-app and online purchases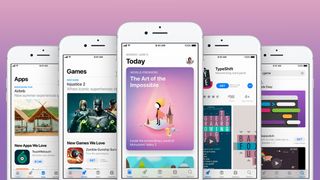 Using Apple Pay in an app or in Safari is just as simple as using it elsewhere. Simply tap the 'Buy with Apple Pay' button, review your payment details, then verify it's you with Face ID.
Pay via iMessage
With newer iPhones you can also send payments directly through iMessage. Simply tap the 'A' symbol to the left of the text box in your conversation, then tap the Apple Pay icon. Next, enter the amount you want to send, then approve the payment with Touch ID or Face ID and the money will arrive with your contact instantly.
It's Super Smart
And, Apple has made it so that Wallet is time and location-based. In other words, the boarding pass appears when you get to the airport, even (with your permission) on the iPhone Lock screen, and you're notified of any gate changes. Or walk into the coffee shop and the appropriate gift card pops up.
And as I said above, you can find Wallet-capable apps in the App Store.
Just make sure you have double-click enabled in settings:
This way, your phone can be completely locked and still allow you to shop till you drop! If you have more questions, leave them below! And next time you're out and leave your wallet at home, don't sweat it. Your iPhone has your back!
Xx Tara